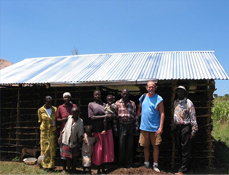 A widow gets her new house!




Girls Dormitory
Girls Dormitory for Wikondiek Secondary School … in progress 90% complete
One of the big challenges that the young girls face is the opportunity to attend class regularly, have time to study and thus pass national exams. Some of the obstacles that they must overcome include the perception that since girls will get married, education is wasted on them. This in turn makes them prime candidates for marriage while still in their early teens. In addition, girls are expected to do most of the chores (fetching water and firewood, cooking, cleaning, growing food, raising younger children and taking care of the infirm etc). This leaves very little time to study and as a result they do not well in school. It is a vicious cycle which leaves them much more likely to drop out of school.
Sequoia Helping Hands wanted to build a dormitory in the school compound where the girls can have a safe environment in which to live, study and develop.
We plan to add the finishing touches as soon as things cam down and students are back in school. Thank you for donating to this project.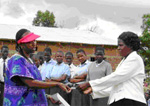 Juni handing check to the headmistress of Wikondiek Secondary School to be used for the construction of the Girls dormitory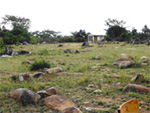 Site for the new dorm. Notice how rocky it is. Wikondiek is very rocky so the first step will be to remove as many rocks as possible. The rocks are broken into smaller pieces using hammers.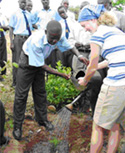 Libby and Samwel, 2 students, planting fruit trees on the new dormitory site. Wikondiek students were assigned to water and protect the trees as they grow.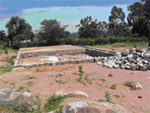 The foundation took a lot of time to complete. There was one particularly ill-placed rock which forced the workmen to dig very deep and place the wall deep in the ground. This used up a lot of cement. Cement is very expensive in Kenya.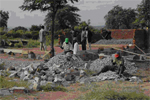 The walls are going up, There were many rocks that had to be removed by hammering them one at a time.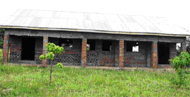 Q4 2007: we only needed to add windows and furniture. We had planned to have the students move in by Q1-2008 for the 2008 academic year, but the post-election violence made this impossible. We expect that the dormitory will be fully occupied in early 2008.
Back to Top
Clean Drinking Water… future



Unless you are fortunate enough to have a corrugated iron roof, you get your water from this river. There are many water-borne diseases (e.g. typhoid, bilharzias) that are rampant and that we treat during our medical camps. Unfortunately, the children get re-infected again since they still do not have clean drinking water.
You can help by
purchasing a water tank
for a family. Water tanks are useful only if the family has a metal roof which can be used for water catchments. Sequoia will purchase the water tanks and add gutters as necessary. All houses that Sequoia builds have water catchments ability.
Alternatively you can help
us dig a well
. Sequoia would like a well/borehole dug where water can be used by the schools, community center and medical clinic. Pre-treated water will also help save the environment since less fuel will be used to boil drinking water to sterilize it.
Clean drinking water goes a long way to maintaining good health. We provided clean drinking water to the children of the school for one year by giving a
micro loan
to a woman who then delivered the water by donkey, but we need to extend this so that it is ongoing. We would also like to extend the same benefits to other children in the community.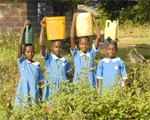 In addition, having readily available water will give the children more time to spend in school instead of fetching water.
Back to Top
Community Center … far future
Sequoia Helping Hands would like to build a community center to be used by nearby villages. The original idea was to build a library at the Wikondiek Secondary School but we realized that this would limit its use to students. A community center which includes a library, playground, training rooms and a kindergarten will benefit more people.
We would also have a playground there (we had initially discussed building the playground at Wikondiek Primary school, but we discarded this for the same reason as the library). An added bonus is that the community center could be used for training purposes etc. As you can see this is a big project and it will require significant resources to develop but we are confident that we can do this.
Solar power will be available here so that students can study at night as needed
Back to Top
Desks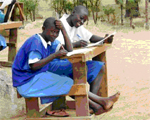 Desks for Wikondiek Primary School … complete
Sequoia board member Don, who is also a member of the "Roycroft Woodworker's Guild", used his woodworking skills to design and build 90 desks in 8 days for the Wikondiek Primary School. This amazing feat enabled all the 180 children attending the school to sit on desks for the very first time in 100 years (the school was built in 1903).
Back to Top
Medical Center
Medical Center … Coming Soon

Back to Top
Houses
Houses … ongoing

During a needs assessment study, it became clear that we needed to build some houses as a matter of urgency. The houses that were rebuilt as part of this Sequoia Helping Hands project were uninhabitable. Sequoia continues to build houses on a case by case basis.

Most houses are built of clay and are easily damaged by rain and wind. They require continuous regular maintenance. Sequoia Helping Hands board member, Don Karl, spent several months in Kenya building 15 houses for orphans, vulnerable children and widows (since then we have built more houses). The houses were built with locally available materials and with the direct assistance of the beneficiaries. These new houses have corrugated iron roofs (instead of the normal thatched roofing) which enabled rainwater to be collected. The houses were built with the help of the home-owners and once complete, they were each given a water tank.

This was one of the most ambitious Sequoia Helping Hands project. Once the structures were complete, the beneficiaries were left with the task of plastering the houses and were promised water tanks once the houses are complete.

Sequoia Helping Hands continues to build houses for those that need them. After the initial 15 houses, we have built three more houses.
Our next plans are to build brick houses. These will require less maintenance, and will last longer than the traditional homes. We have purchased 2 brick presses and are training some community members. Our hope is that this will provide a means for raising resources to be self-supporting
She moved in before her house
was complete
An almost complete house. The house needs to be "plastered" with a mixture of anthill and cow dung. This makes the house waterproof. Cows are not as plentiful as they used to be so it is challenging to complete this kind of house. This house was built for a child-headed home consisting of all teenagers. Once the homeowners complete the house we bought them water tanks. The pot is where the new water tank will be located
Back to Top